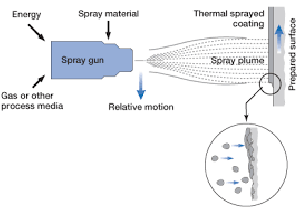 Application of metal, ceramic and carbide coatings on machine parts to improve surface properties without changing the base material.
IN REPAIRS
Replacement of a worn surface by applying a coating with comparable or better properties to the original surface.
IN MANUFACTURING
Application of a layer on a base material with specific properties : hardness, abrasion resistance, electrical insulation, corrosion protection, etc.
Such as: shafts, pins, worms, knives, teeth, rails, etc.
Examples of possible applications
Repairs and finishes:

sliding surfaces

sealing surfaces

sealing surfaces

bearing fits

flush fits shaft/ bore

el. conductivity/ electrical insulator
corrosion protection

cavitation resistance

abrasion resistance

smooth and glossy surfaces

rough functional feeders

and many more